About Us – Your Trusted local plumbers in Canberra
Welcome to Contemporary Plumbing, your reliable partner in all plumbing services since 2012. Founded by industry experts Ryan Gransden and Sam Slattery, our company has been at the forefront of delivering exceptional plumbing services throughout Canberra and the surrounding regions.
Our Humble Beginnings:
In 2012, two passionate individuals with a shared vision decided to establish Contemporary Plumbing. With their extensive expertise and unwavering dedication, Ryan Gransden and Sam Slattery embarked on a journey to revolutionize plumbing services in the commercial projects sector. Their combined knowledge and commitment to excellence laid the foundation for a company that is synonymous with quality, reliability, and innovation.
Over the years, we have successfully undertaken and completed a multitude of complex plumbing projects, catering to various industries such as government, hospitality, healthcare, education, and more. Our meticulous attention to detail, adherence to industry standards, and seamless project management have earned us the reputation of being a trusted partner for businesses seeking superior plumbing solutions.
Service & Maintenance – A New Chapter:
In 2023, a significant milestone was achieved as Dom Thornton became an integral part of our team. With an illustrious career in the plumbing industry, Dom joined us as Managing Director of the Service & Maintenance division. This strategic addition was prompted by our continuous growth and the desire to extend our expertise beyond project execution. Dom's leadership ensures that our commitment to quality doesn't end with project completion; we're here for the long haul, providing ongoing maintenance and exceptional service that our clients can rely on.
Dom brings a wealth of knowledge to all aspects of residential plumbing including servicing, maintenance, renovations and new-builds.
Our Core Values:
At the heart of our operations lie our core values – integrity, reliability, and innovation. We hold ourselves accountable to the highest ethical standards, delivering on our promises with transparency and honesty. Our reliability is not just in meeting deadlines, but in consistently exceeding expectations. We approach every job with an innovative mindset, leveraging the latest advancements in plumbing technology to provide solutions that are efficient, sustainable, and cost-effective.
Client-Centric Approach:
Our clients are at the centre of everything we do. We recognize that each job comes with its unique challenges and requirements. That's why we emphasize open communication and collaboration, ensuring that every aspect of our services aligns with the client's vision and goals. Your satisfaction is our ultimate reward.
Join Us in Shaping the Future:
As we continue to evolve and grow, we remain dedicated to pushing the boundaries of what's possible in the plumbing industry. With a passionate team led by experts who are genuinely invested in your success, Contemporary Plumbing is ready to tackle any plumbing challenge, from the simplest repairs to the most intricate commercial projects.
Thank you for considering us as your plumbing partner. We look forward to the opportunity of working with you and building a future where plumbing solutions are synonymous with excellence.
Sincerely,
Ryan Gransden, Sam Slattery, and Dom Thornton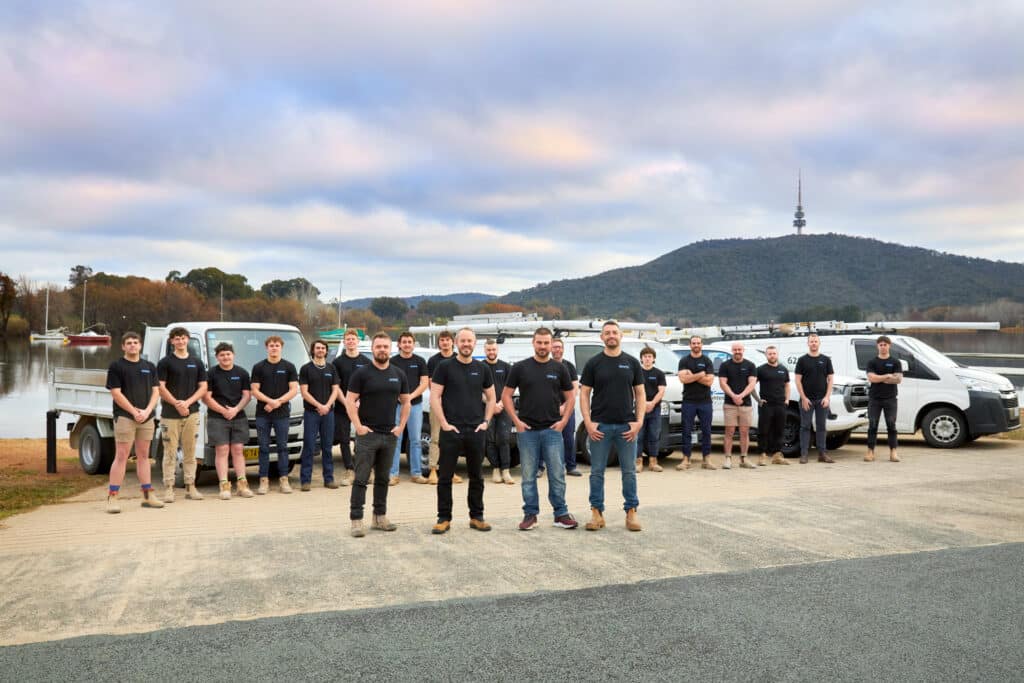 Contemporary Plumbing are your trusted, local commercial plumbers in Canberra.
Founded in 2012, Contemporary Plumbing are a dedicated team of plumbing professionals who specialize in providing exceptional service, maintenance, and commercial plumbing solutions across the ACT and surrounding regions. With 40+ years of combined experience in the industry, we take pride in delivering top-quality workmanship and outstanding customer service to meet the needs of our valued clients.